Escalators


Radio remote control solutions for escalators
With JAY Electronique's range of products for this type of application, you are sure to get a radio remote control designed with the best control ergonomics and built to do the job, no matter how severe the working environment or how intensively your equipment is used.
A DANGEROUS APPLICATION
In this difficult work environment, maintenance technicians must be able to safely operate the equipment when performing inspection and adjustment operations, sometimes requiring removal of steps from the escalator.
WHY RADIO REMOTE CONTROL
With remote control ensured directly by the technician, problems related to interventions with co-workers are avoided. In the event of a breakdown, the wireless solution allows the technician to efficiently intervene, kee- ping a safe distance away from dangerous movements. During inspection procedures, the wireless solution allows the technician to more efficiently inspect the equipment. The self-checked validation auxiliary button prevents any shunting of the control component. In compliance with section 5.12.2.5 of EN115-1, the system prevents any unintentional controls. The Sil 3 emergency stop on the radio remote control allows the operator located in one of the drive stations to immediately shut down the equipment in the event of an emergency.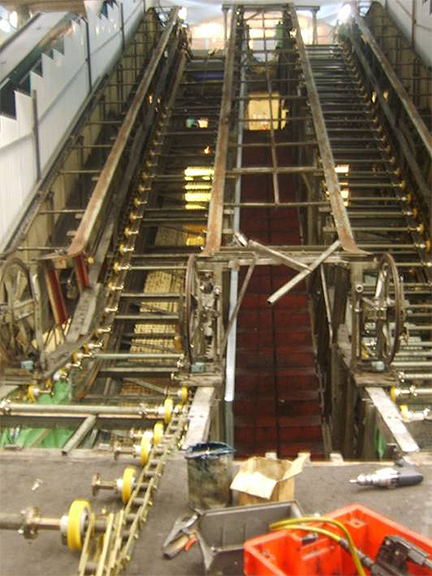 publier-ou-depublier-loutil