Concrete pump, mixer and conveyor, product projection for building


Our radio remote control solutions for self-driven pumps, belts, concrete mixers and ready-mix concrete plants
JAY Electronique offers a wide range of radio remote control solutions for concrete handling equipment. Our rugged radio remote control systems are built to work in the most severe worksite environments, providing operators with an ergonomic control unit (buttons or joysticks) defined to control the needed number of functions.
The solution proposed is configurable to meet your needs.
A CHALLENGING APPLICATION
Operating on mobile equipment in an outdoor environment subject to bad weather, a self-driven pump must be able to operate on all types of worksites. Its unloading arm must be able to deploy in tricky spaces requiring the highest degree of precision. A concrete mixer and a ready-mix concrete plant must be able to response quickly and frequently to controls generated by operators standing at a distance.
WHY RADIO REMOTE CONTROL
By optimising the position taken by the operator, the radio remote control system ensures extreme precision while improving intervention time and conditions. With a radio remote control system, control of all concrete delivery movements and functions is at your fingertips.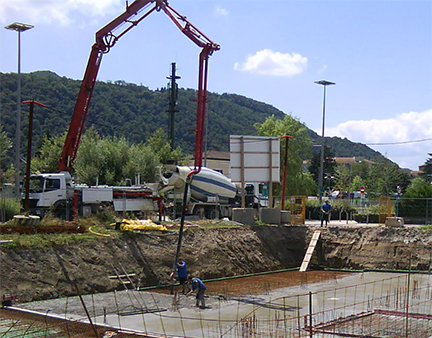 publier-ou-depublier-loutil