Special travelling cranes


Our radio remote control solutions for special overhead travelling cranes
JAY Electronique offers a range of products for this type of application. Our remote controls have the flexibility to meet your specific functional requirements in terms of number of functions, control ergonomics (buttons or joysticks), the severity of worksite environment and your working conditions which may be more or less intensive.
A CHALLENGING APPLICATION WITH MULTIPLE ASPECTS
Working in a difficult industrial environment, special overhead travelling cranes are built to transfer loads from one workstation to another or to a truck for loading and unloading.
Each operation, dangerous by nature, requires the highest degree of precision. Overhead travelling cranes implement complex load lifting systems (two hoists may be coupled ; one or two powered lifting beams may be equipped with a grabber, a magnet or suction cups to grab the load to be moved).
WHY RADIO REMOTE CONTROL
By placing the operator at a distance from the load and any obstacles, the radio remote control system ensures operator safety and extreme precision each time the load is moved.
The radio remote control system controls all the movements, including lifting beam movements, independently while limiting cabling.
As may be required, the operator module screen can provide information on the weight of the load.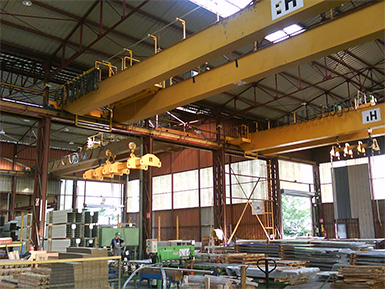 publier-ou-depublier-loutil