Waste & wood shredder, clearing machine and biogas production equipment


Radio remote control solutions for green waste crushers
With JAY Electronique's range of products for this type of application, you are sure to get a radio remote control designed with the best control ergonomics and built to do the job, no matter how severe the working environment or how intensively your equipment is used.
CHALLENGING APPLICATION WITH NUMEROUS FACTORS
Due to the constraining work conditions in which they are used, certain green waste crushers must be controllable from a distance. At a green waste processing centre, the crusher controls are not necessarily easily accessible by the operator handling the waste using a loader. When working difficult terrains with strong surface variations and drops, for safety reasons, brush cutters are not equipped with an integrated control station.
WHY RADIO REMOTE CONTROL
A radio remote control is the ideal solution for the above two cases. With a radio remote control, the green waste crusher can be controlled from the loader control station. Should unwanted objects get into the crusher (such as scrap metal, rocks, etc.), the operator can quickly stop the crusher from his control station. With a radio remote control, your brush cutter, not equipped with an integrated control station, can be control- led from a remote location. In this way, the operator does not need to get into a hazardous situation when performing difficult work in this type of rugged environment.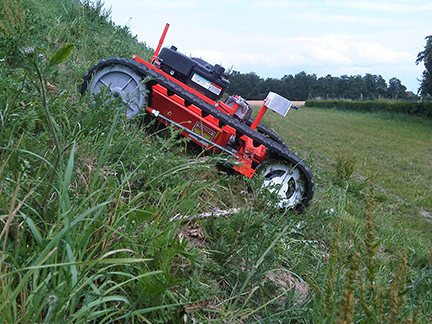 publier-ou-depublier-loutil