Repairs

Repairs
With a constant concern to give you the best possible service, products repaired at JAY Electronique are processed in the same way as new products including technical upgrading to achieve similar quality.
By this approach, our repairs are guaranteed 6 months on the complete product.
For some remote cases, maintenance is ensured by standard replacement by a new product. In this case, the warranty is extended to 2 years.
Products
Repair files
Spare parts lists

 

Industrial remote UD

 

 

HF remote UC

 

 

 

RF remote UR

 

 

Wireless emergency stop RS

 

 
To limit the duration of not availability of a remote case the repair of a material under guarantee, or the repair estimate of a material out of guarantee is issued within 48 hours after we receive the equipment.
In order to facilitate the management and efficient processing of your return, please, download and complete this form for your product return.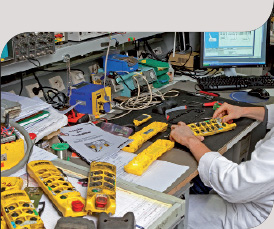 publier-ou-depublier-loutil